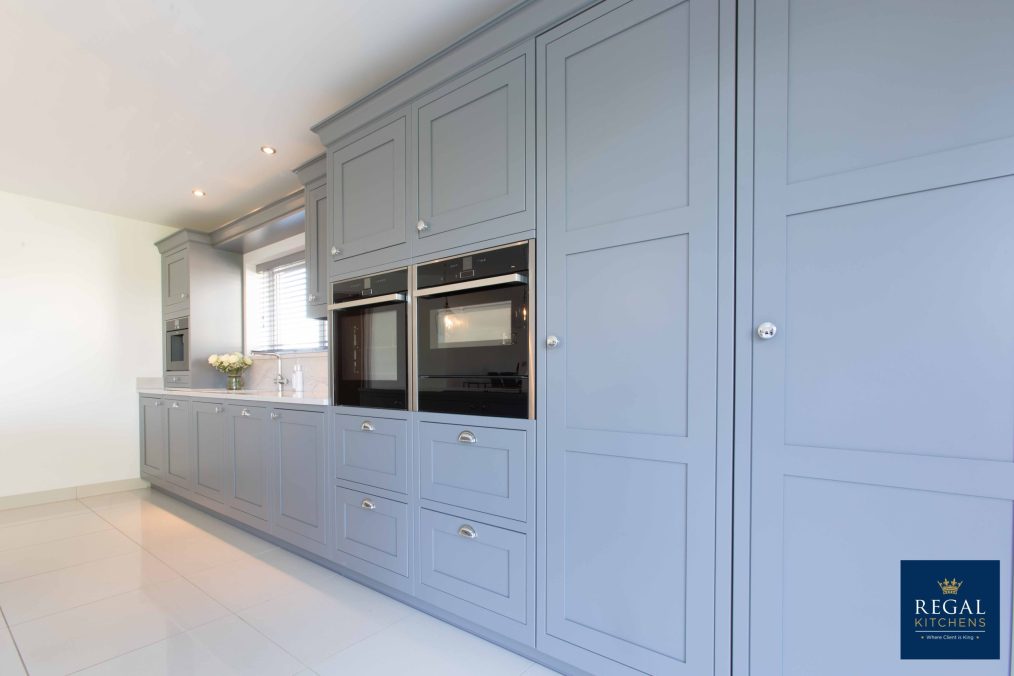 2022 Emerging Kitchen Trends
Since early 2020 we have all had to use our homes so much more than we ever did before, with our communal spaces working all the harder. Considered the heart of the home, kitchens have had to adapt even more than before to become multifunctional spaces, from a space to prep and cook food, to a dining area and living room, and even a home office, our kitchen ideas are ever evolving.
If you're planning a new kitchen project for this year, get ahead of the bandwagon with the newest kitchen trends. Not only will this help make sure your kitchen doesn't fall behind the times when it comes to materials, colours and appliances, but also that you're making use of the latest innovations for the kitchen. Whilst these may point you in the right direction of the kitchen trends to come, don't forget to make sure your kitchen is a space you really enjoy and suits your family and lifestyle. Trends come and go, but when investing in a new kitchen, you'll want to love it for years to come.
Bold Colours
With kitchens being the heart of the home a the gathering place for all daily activities, from a snatched cup of coffee to a leisurely supper its very important to make the room as drop dead gorgeous as you possibly can. Colour is one of the simplest and most transformative ways to change the entire look of a kitchen
When it comes to figuring out your paint palette, start with places like Pinterest and interiors magazines and grab images that resonate with you. Many people are afraid of using colour in kitchens and so end up with white or grey everywhere, but the minute you take the plunge it will quite literally change your life and your kitchen. You could always look at the colour wheel for inspiration but you should always trust your instincts and follow your heart so that you choose colours from a more emotional perspective.
The trend for using bold, dark colours in the kitchen has been rumbling around for some time now but there has definitely been an expansion in the shades being used.
Handle-less or classic Shaker remain the most popular kitchen trends, but it seems we are embracing more colour. In line with other interior trends, blues and greens are hugely popular with the richer hues of forest green and burgundy joining navy as top ranking colours.
Kitchen Home Office
The need for more home working has meant a rise in homeowners searching for space to carve out office areas.
The kitchen is the ideal spot and kitchen designers have caught on to this by coming up with all kinds of solutions, from units which conceal neat little office set-ups within, to layouts that allow for offices to tuck away in a quiet corner of the space.
A breakfast bar can often be squeezed into a surprisingly small space and it's a budget-friendly way to create a multi-purpose work area for both adults and children in a kitchen.
If you're putting a workstation into a busy kitchen but don't want to be reminded of work when you're not at the desk, it could make sense to tuck a home office into a cupboard, where clutter and mess can be closed away at the end of each day.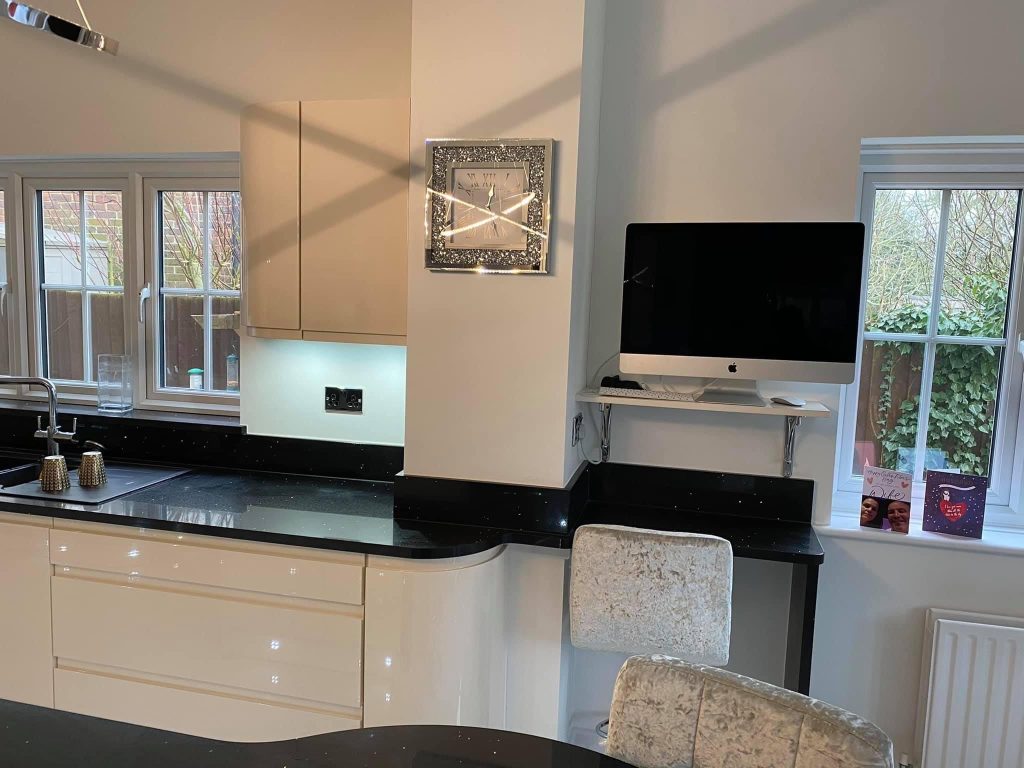 Herringbone Floors
Parquet and herringbone flooring is hot news in homes right now — a trend that is set to continue for the foreseeable future. Perhaps the room that it is most commonly being seen in at present it the kitchen, where it adds texture and warmth to even contemporary schemes.
A herringbone floor doesn't have to be timber either — there are many other types of flooring it comes in, such as LVT and porcelain.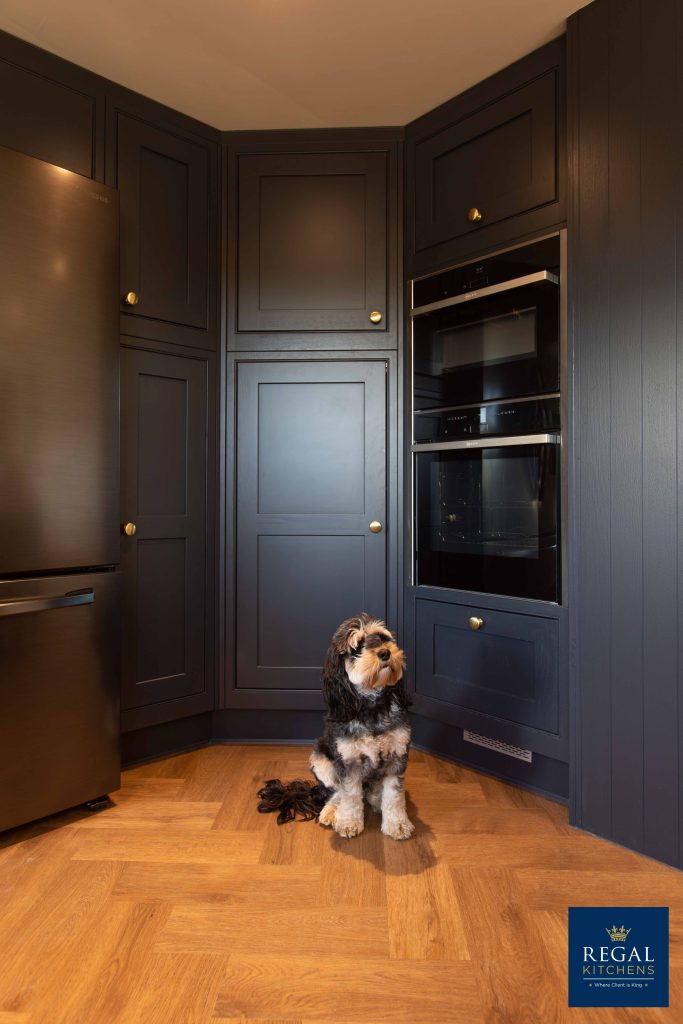 Smart Kitchens
2022 is seeing the ride of the Smart Appliance, from ovens that carry out recipes on your behalf and even take on the role of intuitively adjusting temperature, to fridges that order your shopping — the possibilities are endless.
Home Connect from Neff helps you to unleash your cooking creativity by allowing you to manage your oven, fridge, dishwasher and other home appliances over your WIFI, you can even speak to your ovens using voice control and make appliances interact with each other automatically, it can also provide remote diagnostics in the event of a problem
The boiling water taps we were all in awe of a couple of years ago have seen an upgrade too — most smart taps now also dispense boiling, chilled, filtered and sparkling too (some even allow you to select exactly how carbonated you like your water!)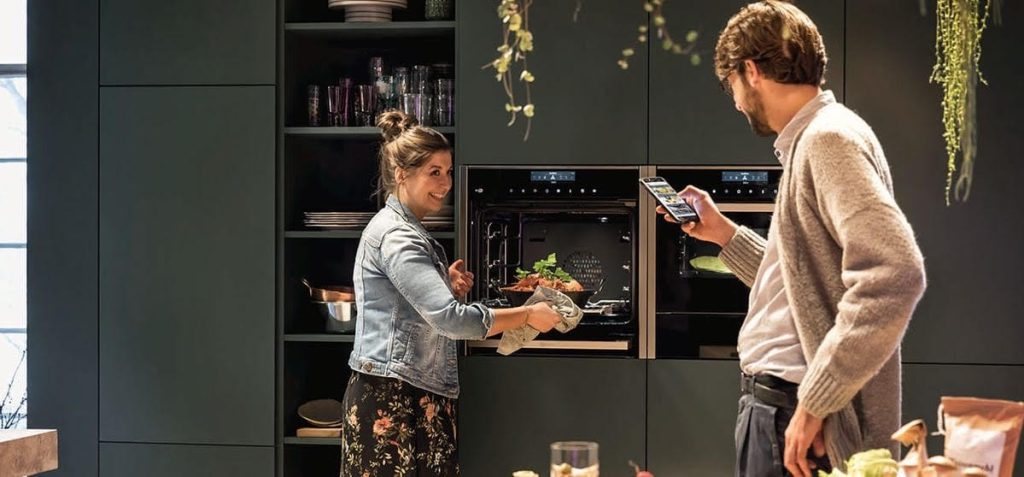 Clever Storage, Utility or Pantry?
In a time when we strive to declutter for our overall wellbeing, storage is key. Especially in kitchens where we need so many 'things' from the ingredients to the cooking equipment.
Well-placed, concealed kitchen storage ideas are a saviour for the aesthetic of our kitchens.
When planning any successful layout factoring in ample space to keep clutter out of sight is always key to making the space work harder for you.
Another practicality in today's kitchen is the utility room. Utility rooms are a sign that today's kitchen has become much more of a living space, wherever possible, it's always advisable to carve out a little space for either a utility room or clever storage solutions, as you can store all of your laundry and other unsightlys out of sight making your kitchen a much more liveable space.
Don't have a space for a utility room? A pantry is the next on the top trend hit list.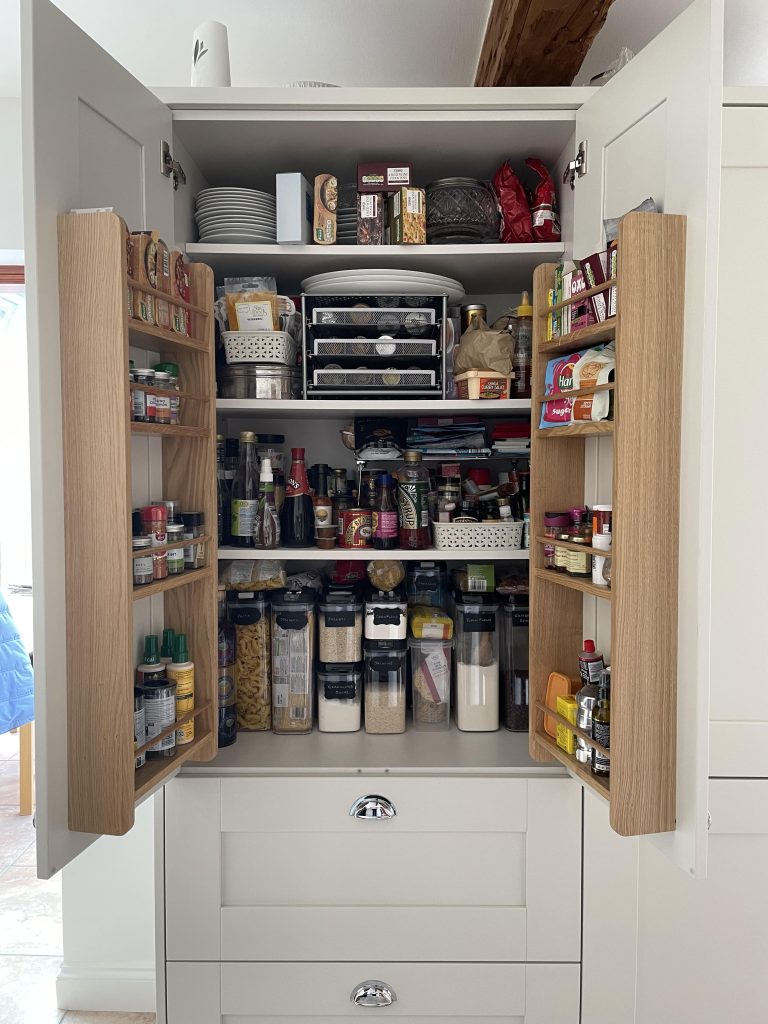 The pantry is essentially a special closet that serves as a storage area for foodstuffs and, or kitchen appliances. Pantries usually feature a combination of shelving as well as open space for the storage of larger containers; the exact configuration of the interior space will depend on the type of food storage that is intended for the space. Originally, a pantry was simply a cool and dark place where perishable foods such as freshly baked bread could be stored. 
The most obvious benefit of adding a kitchen pantry is additional storage space. Not only do cluttered kitchens look messy and dirty, they also make it easy to misplace cooking tools. Including this home storage option in your kitchen is a great way to make better use of available space.
Having a well-organized kitchen pantry will make cooking at home easier and more convenient. Have you ever settled for eating out because you were not sufficiently stocked with the necessary food items to prepare a meal?  Or, have you come across certain food items after thinking you had none at home because it was not being stored in an easily accessible place? Having a pantry solves both of these problems.  You have everything you need, in one place.  In addition, who wouldn't want the money saving and health benefits of cooking at home.  You know what you are eating when you cook your own meals, and you save the money you would spend when eating out.
Having an updated kitchen with pantry adds considerable appeal to the room, and increases selling chances. The kitchen is considered by many to be the heart of the home, thus making it a critical component when considering buying a home.
Whether you have a small or a spacious kitchen, good storage solutions are essential to keep everything in order. A cluttered kitchen can often become a messy kitchen, particularly if you are constantly moving other things out of the way in order to get to what you need at the time.
Pull-out storage can be a real live saver for small kitchens, it all depends on how you use it.
– Instant organisation system. The fact that there is pull out storage means that you will be able to easily organise your cutlery and accessories, pots and pans, whisks and carving knives etc. etc. all in different units. Great!
– The pull-out storage solutions add an extra design level to the kitchen, making it look classy and contemporary. Plus when you are done you can simply hide it away in a cabinet.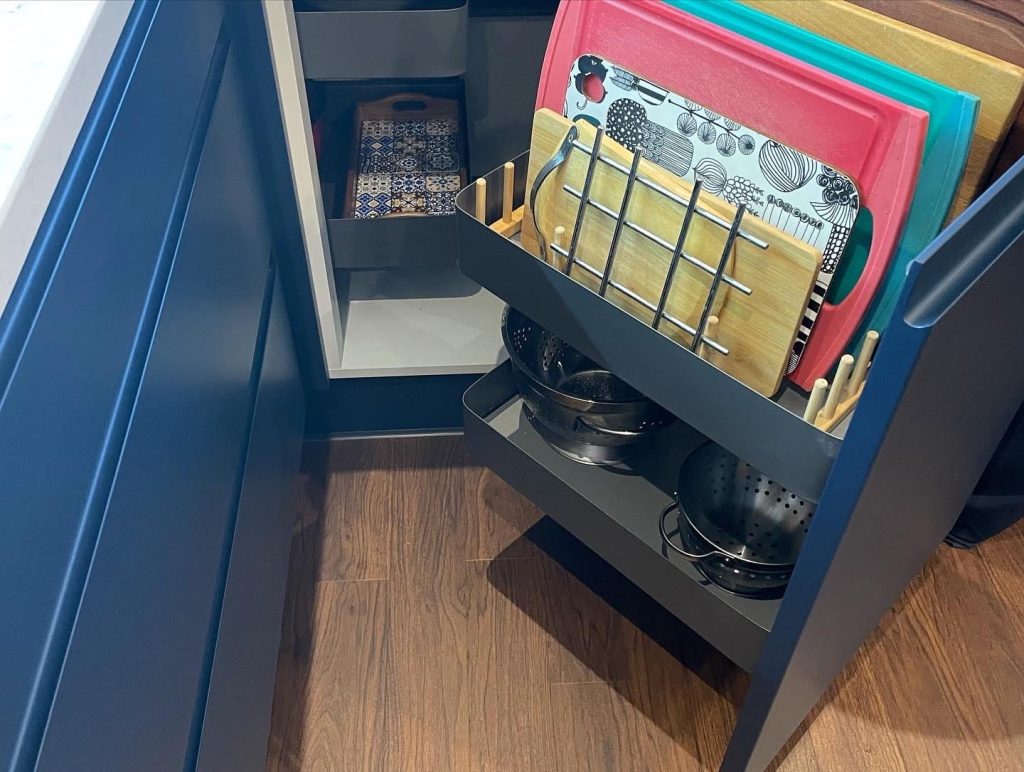 Our friendly and knowledgeable designers have combined experience of many years and our beautiful showroom is open 7 days per week. Why not pop down and see us to start planning your dream kitchen for 2022.
#whereclientisking