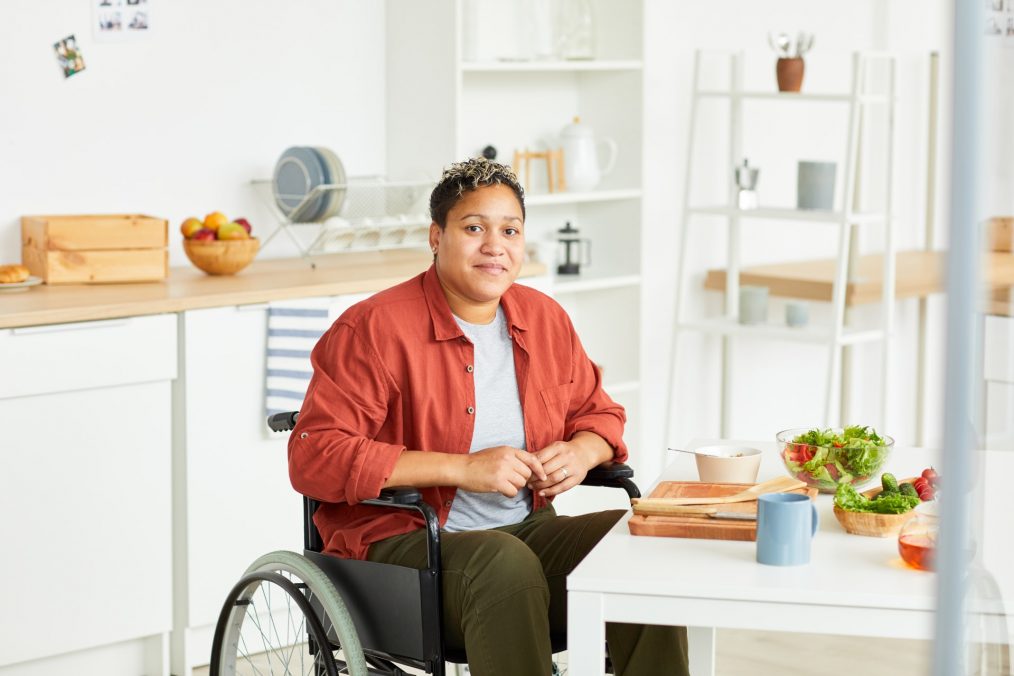 Accessible Kitchens For Those With Physical Limitations
The kitchen is the hub of most people's homes and probably the room used most often during the day, so its important that it is easy to use, especially if you have reduced functional capacity. An inclusively designed kitchen is intended to offer independence to less able or wheelchair users, whilst at the same time being suitable for all other users in the household.
Today there are over 14 million disabled people in the UK, yet there is still little understanding of the requirements of disabled people in the home and particularly in the kitchen.
Flexibility, accessibility, and user-friendliness are some of the most important factors in a disability friendly kitchen. The flexibility ensures that the kitchen products are adjustable to fit the individual user's needs. Designing an inclusive kitchen is very much a matter of looking at the small details that can make a big difference. It is a matter of assessing the needs of the individual, often in the context of a multi-user family home, and incorporating as many features as possible to ensure that the kitchen is fully functional for everyone.
Maintenance and care of your kitchen are an obvious consideration to make for any project, but easy to clean materials would be an added benefit or those with mobility or visual impairment, just because you choose practical doesn't mean it can't be beautiful too!
A fully inclusive design should show off new products and technology, as well as current trends and style. Most furniture and accessories can be adapted to meet the needs of any client but its important for the designer to fully understand the day to day use of the kitchen and where any problems with their existing design lie, as well as understanding if the clients capabilities will change in the future.
There are 5 main areas to be considered; Worktops, Ovens, Hobs, Sinks/ Taps and Storage Solutions.
Worktops – Ropox (https://ropox.com/concepts/kitchen-concepts/) provides rise and fall as well as adjustable height work tops, they have a low profile frame depth to give maximum space underneath, smooth corners to reduce risk of catching clothing or vulnerable skin and a safety stop function to prevent the unit rising or falling into an obstruction.
Ovens – Accessibility is key with hot appliances, therefore we recommended the Neff Slide and Hide oven for use in all disabled kitchens, the oven door completely disappears giving the user full access to the oven cavity, in most circumstances we would also recommended a model with extra telescopic anti tilt rails and a pyrolytic cleaning function to help those with restricted movement. (https://theneffkitchen.com.au/neff-oven-disability/)
Hobs – Induction hobs only conduct heat when in contact with a pan with high ferrous metal content so there is less concern over clothing or tea towels catching fire. Neff induction hobs include additional safety features such as automatic shut off, shatterproof glass and residual heat indicators. The Neff venting hob also includes an extractor inside the unit so there is no need to try to access a separate device which in most cases would be in the ceiling or high up on a wall which can be impossible for some wheelchair users to access.
Sinks/Taps – Sinks should be a shallower depth than standard, making reaching the bottom of the bowl easier without stretching or hunching, this also provides more space in the cupboards underneath. The base of the sink should be insulated to prevent accidents
Storage Solutions – Hafele and Vauth Sagel offer a huge range of different clever storage solutions helping the customer get closer to the objects in their cupboards in a comfortable way, there are also swing carousel units which move the entire contents of the corner cupboard in front of the unit so everything is within easy reach. Ropox also offer height adjustable wall cabinets , these can be controlled manually or electronically, these can even move out from the wall to come closer to the client, making it easier to reach everything you could possibly need when putting together a culinary masterpiece (for more info https://ropox.com/product-category/kitchen-upper-cabinets/)
Regal strive to provide a stylish and modern design for all our clients irrespective of their capabilities, we aspire to increase the customers' self-reliance and give greater accessibility to all areas of the kitchen to maintain independence and a normal life.
To arrange your home visit with one of our experienced designers please get in touch.
#WhereClientIsKing