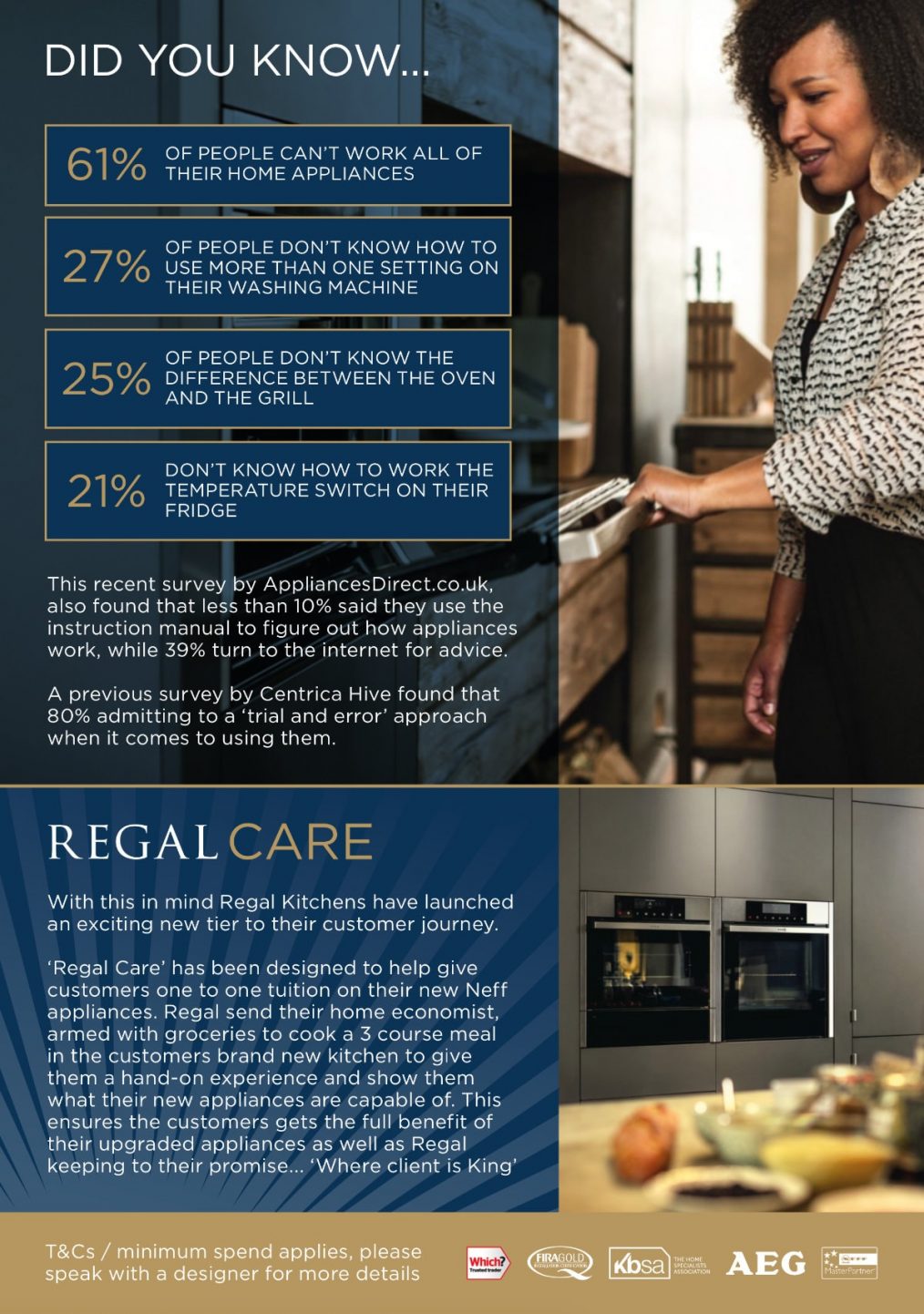 Almost two thirds of Brits struggle to use home appliances
A recent survey by AppliancesDirect.co.uk has found that 61% of Brits "can't work all of their home appliances", with a quarter saying they don't know the difference between the oven and the grill, and 21% saying they don't know how to work the temperature switch on their fridge.
The survey – which questioned 1,015 UK adults – also found that 27% don't know how to use more than one setting on their washing machine. Less than 10% said they use the instruction manual to figure out how appliances work, while 39% turn to the internet for advice.
A previous survey by Centrica Hive found that "millions" of Brits are "baffled by the number of buttons, symbols and switches" on their appliances, which eight in 10 admitting to a "trial and error" approach when it comes to using them.
With this in mind Regal Kitchens have launched an exciting new tier to their customer journey. 'Regal Care' has been designed to help give customers one to one tuition on their new Neff appliances.  Regal send their home economist, armed with groceries to cook a 3 course meal in the customers brand new kitchen to give them a hand-on experience and show them what their new appliances are capable of.  This ensures the customers gets the full benefit of their upgraded appliances as well as Regal keeping to their promise…'Where client is King…'
Regal Kitchens' showroom in Navigation Road, has many working Neff appliances, working Insinkerator kettle taps and 15 kitchen displays, featuring timeless, elegant and cutting-edge design.
The showroom in Chelmsford is open 10am – 4pm 7 days per week.