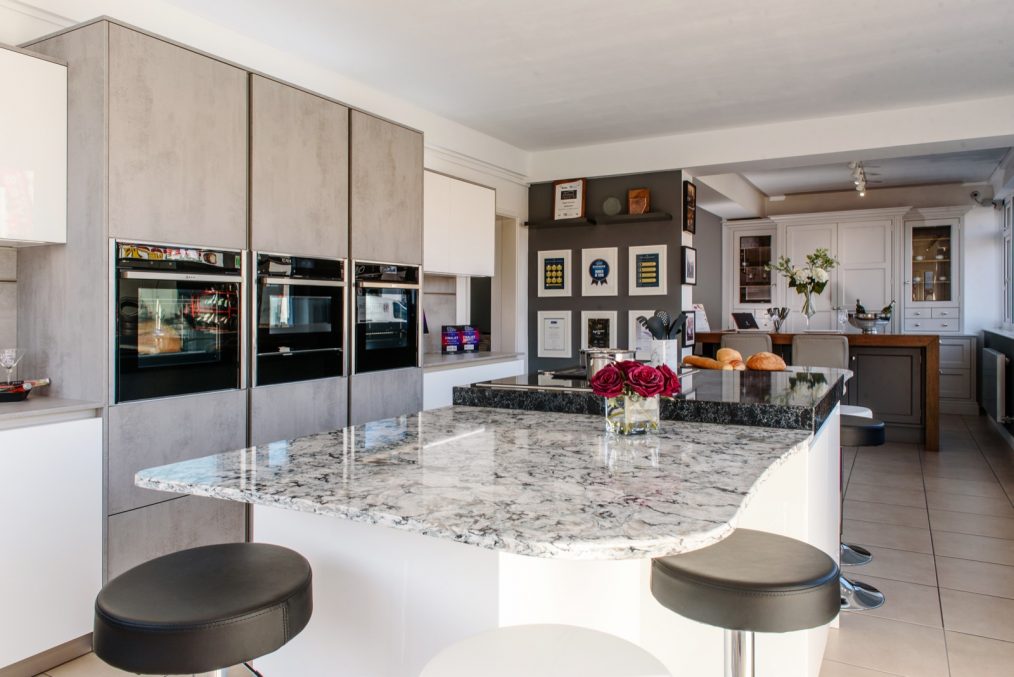 Bespoke Kitchens Essex
Bespoke kitchens are strong, stylish, efficient and tailored to meet your individual specifications and design ideas.
Many kitchen businesses sell high-quality kitchens but they are usually very standard in shapes, sizes, designs and fittings; meaning that your choices can be quite limited. Although it may seem less complicated to order a ready-made kitchen, there may be problems when it comes to fitting your ready-made kitchen as they may not fit your exact measurements or blend in well with your existing interior. This will cause a lot of disappointment and may limit your choices further. With a bespoke kitchen, you have endless choices of designs, shapes and sizes etc because each and every part of your kitchen such as fittings, cabinets, furniture and islands are made from scratch. 
Here at Regal Kitchens, we pride ourselves on our ability to create beautiful bespoke kitchens for your perfect living space. With a huge range of different colours, textures, materials, fittings and designs; we can craft your kitchen exactly how you want it. Our highly skilled team have extensive experience and craft each and every kitchen with precision and close attention to detail to give you the finest bespoke kitchen, which is both practical and flawless. 
Many kitchen sellers may use the term bespoke to promote their kitchens but you may find that a lot of these sellers are using the word bespoke incorrectly. Just because some ready-made kitchens can be personalised with your choice of colours and materials, doesn't mean that it is really bespoke. For a kitchen to be truly bespoke, it should be made from square one to meet the customers' individual orders and measurements. All of the shapes, sizes, designs ideas, fittings and materials etc are chosen specifically by the customer and each bespoke kitchen is crafted to meet their personalised requirements. Bespoke kitchens are made of raw, high-quality materials and crafted with close precision. 
At Regal, we can help you from the very start with discussing your design ideas to crafting and completion of your perfect kitchen. Whether you prefer traditional styles or classic and country, we can craft your ideal kitchen with extreme care and an expert eye for detail. With regular testing and inspections of our kitchens, we can ensure the highest possible standards are met. This will ensure that your bespoke kitchen is strong, durable and stands the test of time. We are proud of our excellent communication and customer service skills and we take our customers needs seriously, no matter how big or small; keeping every client informed throughout every step of the process. Our use of high-quality wood and materials means that you will receive a practical, stylish and efficient kitchen for you and your family to enjoy for many years. 
If you would like any more information about our beautiful kitchens, please do not hesitate to contact us here at Regal Kitchens, where we can discuss your design ideas and help you get started on your dream kitchen project. We look forward to hearing from you.
Our Showroom in Navigation Road, Chelmsford is open 10am – 4pm 7 days per week