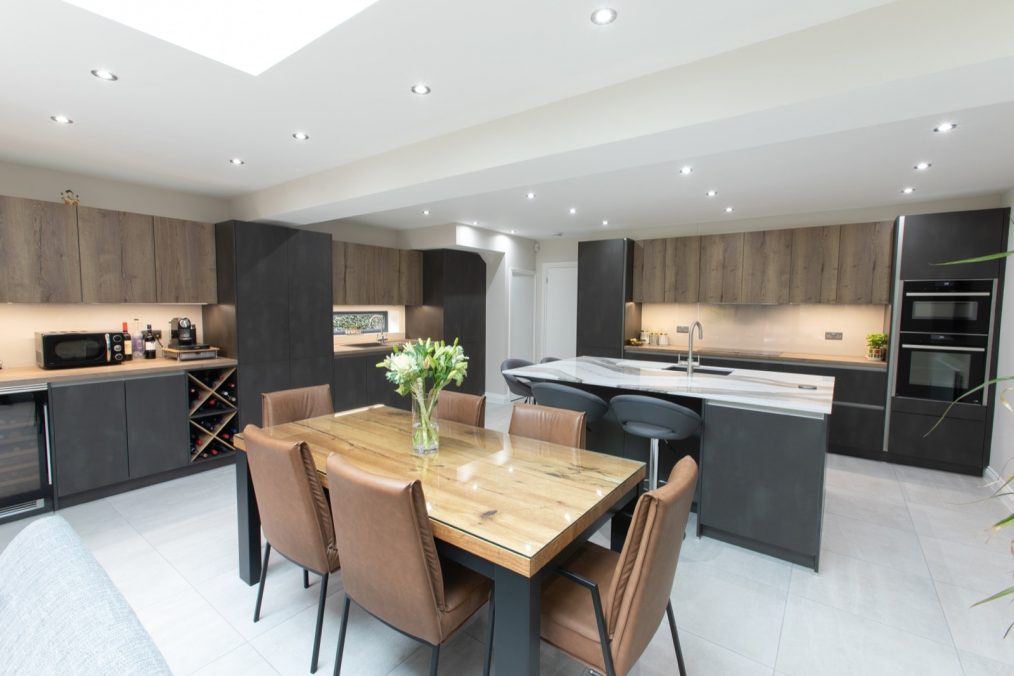 Case Study – Mr and Mrs E Case Study – Benfleet, Essex
Having completed projects for them in their two previous homes, it was probably no surprise that that Mr. & Mrs. Emerson contacted Regal Kitchens when they bought a new property in Benfleet, Essex.
With the aid of their sister company Regal Developments, Phil Edgell was able to help design an open-plan living area. Knocking down the small, cramped, unwelcoming kitchen and extending to create a generous sized (over 40 SqM) area.
When the architect plans were drawn up, they asked designer John Martin, with whom they had worked with on both their previous projects to assist with the kitchen plan. After consultation they concluded that as well as a main kitchen, they needed a working utility space (with no visible appliances) & ideally a separate drinks area for hosting friends & family, also a dining area with additional soft furnishings, tv etc.
John explains the design:
"By opting for the Schuller furniture, we were able to integrate the extractor above the induction hob yet keep the bottom of the wall cabinets in a straight line, creating a modern unfussy look. We ordered the handle less trims in brushed metal to compliment the seamless strips joining the Neff oven & combi.
Putting the sink in the island meant that we were able to keep that big kitchen feel without demanding the cook jog a marathon to create every meal. 
Although the build granted both a sky-pod and bi-fold doors we didn't want to lose the natural light from the existing kitchen, so the window was replaced with a narrower one to allow for the tall and wall cabinets in the new utility area. By housing the freestanding wet appliances in a bespoke deep & wide larder and duplicating that in front of the vertical beam, we were able to hide the structural support, giving us generous storage as well as creating a symmetrical look to the area & clearly defining each zone.
A free-standing wine cooler, a twenty-four-bottle wine rack, a worktop ice maker and wall cabinets with built in LED lights creates a Barkeeps dream area without compromising on the homogenous feel of the room.
Mr and Mrs E had previously enjoyed the unrivalled capabilities of Neff products in their other two Regal Kitchens, this time they opted for a pyrolytic single oven, microwave-oven combi, flexinduction hob with hidden extractor, under counter fridge and freezer as well as dishwasher to complete their beautiful new space.
The counter tops are 40 mm Schuller laminate to co-ordinate with the top cabinets with a warm grey Alusplash wall covering. The statement piece is the beautiful island worksurface, made from 20mm Cambria Quartz , it contrasts wonderfully in thickness, colour, material and look with the other tops as well as lightening the impact of the sophisticated, dark base furniture. The huge piece not only covers the integrated dishwasher, bins, sink, compulsory kettle tap it still leaves room for additional storage, pop up electrics and seating for four! Really creating that elusive WOW factor.
Overall Regal & (our hat trick achieving) clients are both proud and delighted with this project."