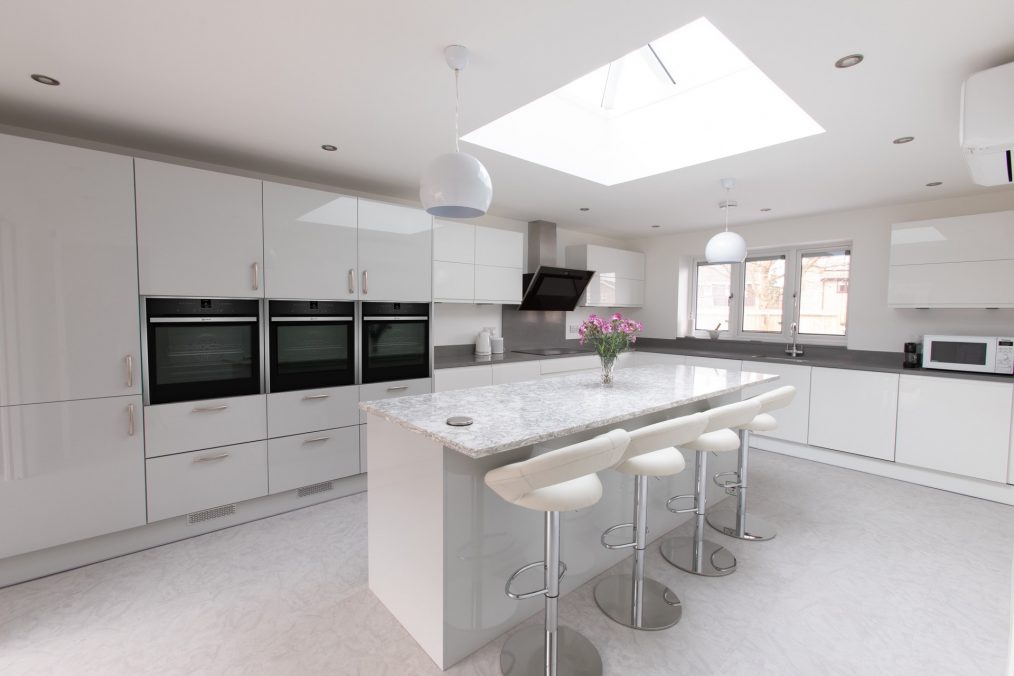 Kitchen Installation in Basildon, Essex – Mr & Mrs E
Basildon – May 2020
Being aware of their reputation followed by strong recommendations it was probably no surprise that that Mr. & Mrs. E contacted Regal Kitchens when they decided to extend their property in Basildon.
With the aid of their sister company Regal Developments, they were able to help with the planning, building regs and everything else involved in realising the property's potential.
When the architect plans were agreed, they asked designer John Martin, to assist with the kitchen design
After consultation they concluded that a large L shape kitchen with a huge island would be the perfect solution
John explains the design:
"We really wanted to make the most of the space that the new extension gave. And because we were involved in the build we were able to ensure the sky pod was positioned directly above the island taking full advantage of the natural light that this afforded.
A full set of appliances including tumble drier, bins and corner solutions (as well as compulsory wine cooler) really ticks every box.
The client wanted white handleless furniture, but because of the sheer amount of cabinets were concerned about being too clinical, so the use of light grey furniture was incorporated and with handles for the tall housings to make the tall fridge-freezer easier to open as these can sometimes be laborious with a handleless door.
The different quartz particularly the Cambria statement island piece really added to the beauty & magazine look of this installation."