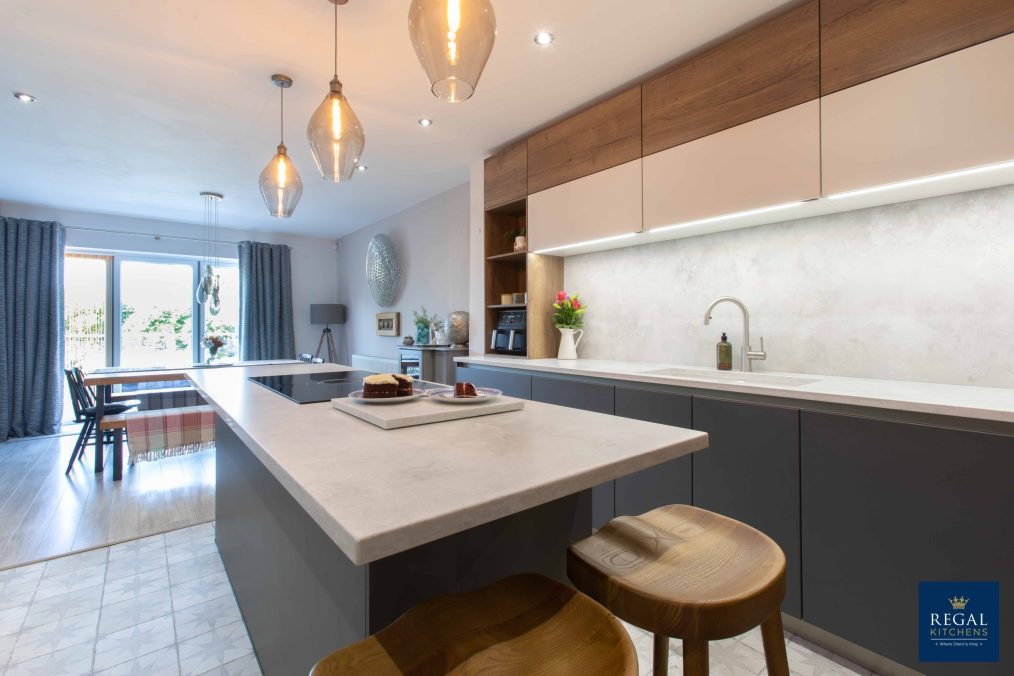 Kitchen Installation in Benfleet, Essex – Mr and Mrs N
When Mr and Mrs N bought their property 9 years ago, they knew that they wouldn't want to keep the existing kitchen but decided to live with it for a while as they learned the pros and cons of the existing layout.
Although the kitchen layout worked for them, the furniture had seen better days and was in need of a refresh, Mrs N also wanted to re-ignite her passion for cooking and had her eye on some innovative appliances from Neff that she wanted to upgrade to, which included a pyrolytic oven and venting hob. She was keen to make better use of the space available to give her more storage and include some clever solutions to make kitchen life more pleasant, the kitchen needed to work within the existing open plan space and be suitable for their older children and family gatherings. Mr and Mrs N really wanted to include as large an island as possible in the room but didn't want this to impact the flow of the kitchen.
Mrs N is a keen user of Pinterest and had gathered many great ideas from the platform, this helped her realise that she really wanted German furniture in 3 different colours to fulfil the look she was aiming for.
After researching on the internet they narrowed their choice to two Essex based companies with great customer feed back and access to quality German manufactures. Visiting both Showrooms they invited the respective designers out to listen to their recommendations.
They were particularly impressed with Regal Kitchens designer's listening skills, all ideas and wishes were incorporated into the design. He suggested moving the large American style fridge-freezer from the entrance view to a more discreet place and it was also recommended that extra height wall units were used to give more storage space on either side of the kitchen as well as including some clever storage solutions to make access to larger cupboards simpler.
A combination of three different colours can be difficult to make work outside of anything but the largest kitchens, however with the right design and a daring client it can be pulled off. Changing the existing bulky extractor for the more modern venting hob really creates a more open, spacious area and the new oven and combi mean that catering for family and friends is a breeze. The exposed brickwork creates yet another texture to add warmth and richness to the ambience of the room.Client Satisfaction
'Regal kitchens certainly live up to their values, client focused, sincere and genuine from start to finish. Any issues were addressed promptly and communication was fantastic, they truly care. A huge thank you to John and his wonderful team, we are extremely grateful to you all, we are so so happy with our new kitchen. We have and will continue to recommend Regal to others.

Regal Kitchens really listened to all of our ideas with sincerity and gave advice when we needed it, everyone we have dealt with at Regal came across as very professional but with a real family feel which instilled trust from the outset. We never felt any pressure to make our decisions which was why they were the company for us and we couldn't be more pleased with the end result.'
#whereclientisking

How it looked before:
After Our Kitchen Installation: