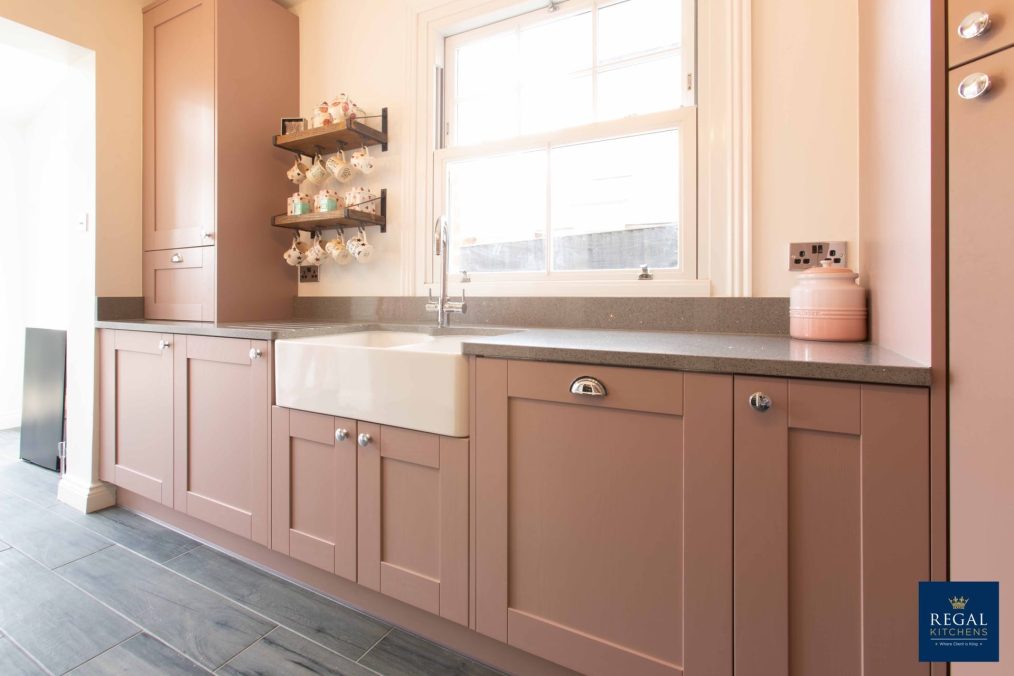 Kitchen Installation in Chelmsford Essex – Miss P
Pretty in Pink!
Miss P had big plans for her new kitchen and scoured the internet and local retailers before deciding which companies she might want to use. After reading some of the positive online reviews left for Regal she decided to visit the showroom for a look around and gather more ideas.
She was introduced to one of our designers, Stacey, who immediately grasped the brief and understood what Miss P wanted to achieve in the space. As her home is very traditional she wanted the kitchen to follow the same path so she opted for a shaker style door in Rose, this pink shade of door contrasts really well with the dark grey mirror sparkle quartz worktop and Belfast sink completes the look she was hoping for.
Top of Miss P's wish list was a kettle tap which she is very pleased with, but she also owns a lot of kitchen and baking equipment, so it was important to find the right storage solutions to suit the design. Internal drawers, large larder cupboard as well as a corner larder and the open shelving give her all the storage she needs.
We especially love the oak and lighting details inside the cabinetry which ties in well with the theme of this room. We have provided Neff appliances as well as a Range Cooker which make this kitchen practical as well as beautiful and the client couldn't be happier with the result.
She says: –
"Regal understood the specific and unique needs of my design choices from the start. The design showed clear consideration of the information I'd provided and wasn't a generic solution. All the team are extremely friendly and approachable, with a keenness to explain anything I was unsure about. The installation team have done a great job and kept everything as neat and tidy as possible throughout. I'm extremely happy with my new kitchen and would highly recommend Regal to friends and family who want a quality kitchen with solutions designed around their needs"
#whereclientisking
#whereclientisking
How it looked before:
After Our Kitchen Installation: