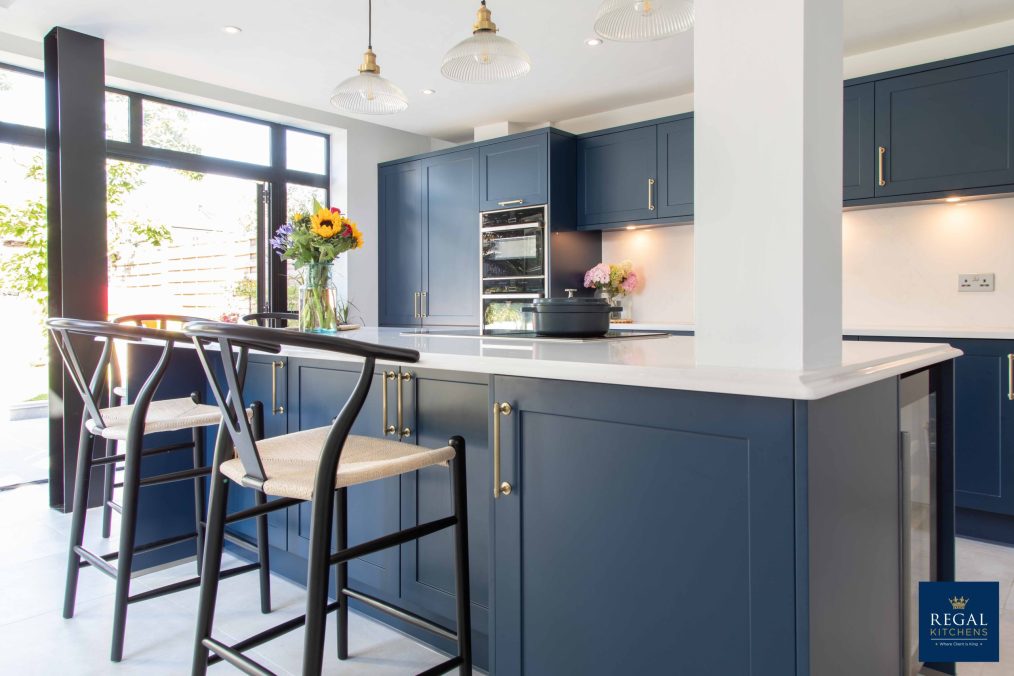 Kitchen Installation in Chelmsford, Essex – Mr & Mrs K
Mr. and Mrs. K had were in the process of planning a kitchen extension when they contacted Regal to look at re-designing the space available. They have 2 young children and both regularly work from home, the whole family has a very busy schedule and were looking for a modern, stylish but more importantly, durable kitchen to suit their lifestyle. After reading some of the reviews left online by previous customers they decided to visit the Chelmsford showroom to start to gather ideas.
They desired a modern shaker-style kitchen and had a preference for the colour blue. Their architect had already completed the drawings for their kitchen extension. However, a structural steel post in the kitchen posed a significant challenge. The new extension was larger than the existing kitchen and aimed to flood the space with natural light by featuring black aluminium framed bi-fold doors leading to their garden. The clients also wished to incorporate an island into the design but were uncertain about how to work around the post.


Design Solutions
Our designer, Stacey, worked closely with Mr and Mrs K to create a functional and aesthetically pleasing kitchen that met their needs, incorporating an island that featured a seating area, allowing for cooking on one side and providing a space for the clients' children to do homework or for working from home on the other. A venting hob was strategically placed on the island to minimize the need for a prominent extraction system, enabling the clients to cook and interact with their children simultaneously without a bulky overhead extractor getting in the way. Stacey also suggested that a wine cooler could be placed on the island to cater to guests without obstructing the cooking area. Waste bins were also included underneath the island in a place easy for the everyone to access.
The design team skilfully integrated the structural steel post into the island, ensuring it did not disrupt the room's overall visual appeal.
The primary bank of tall housing included ovens, a generously sized larder for food storage, a wet area with a sink and dishwasher, and the existing American-style fridge/freezer was seamlessly incorporated into a dedicated wall, complemented by additional furniture to blend with the overall kitchen design.

The clients selected midnight blue painted shaker-style doors, and the worktop was also used as a splashback to achieve a sleek, cohesive look with beautiful champagne-coloured handles.

The inclusion of a Quooker stainless steel tap with instant hot water functionality streamlined the food preparation process, eliminating the need for a kettle and freeing up valuable worktop space.
Client Satisfaction
'We'd heard nothing but positive things about Regal so they were the first people we went to. We weren't disappointed. The staff including Stacey, Phil and Emma were very knowledgeable about all aspects from specification to installation and later usability of appliances. Our kitchen formed part of a side/rear extension and it was important for them to be present at different stages of the build to ensure continuity and no surprises when it came to install.'
#whereclientisking

How it looked before: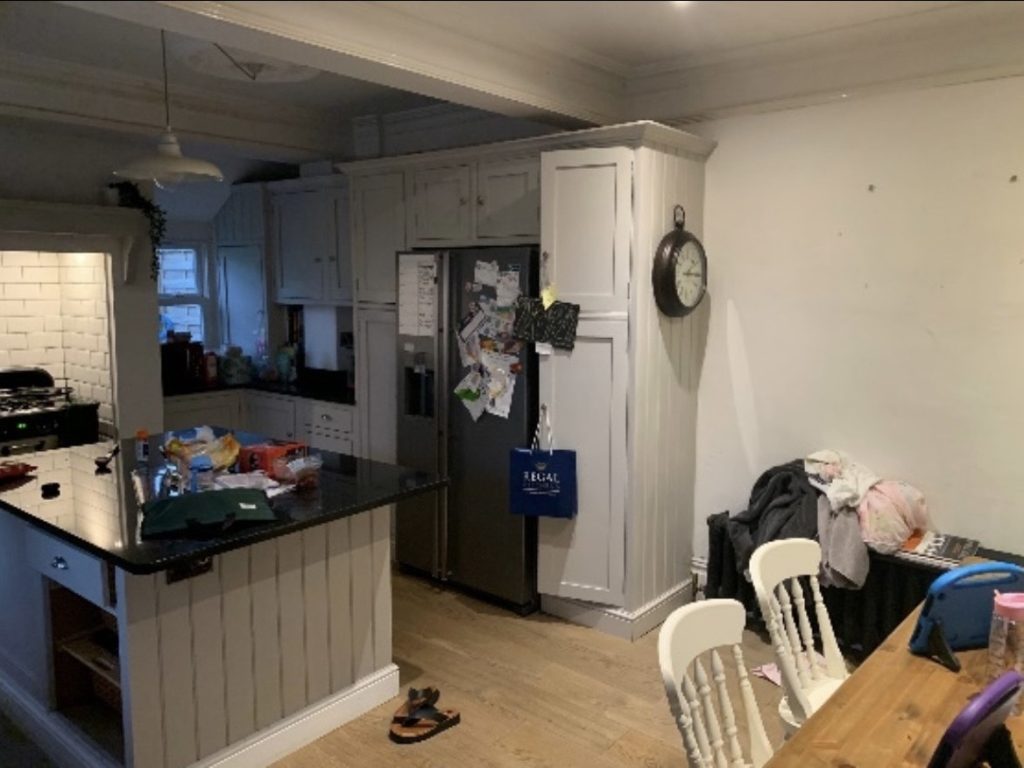 After Our Kitchen Installation: