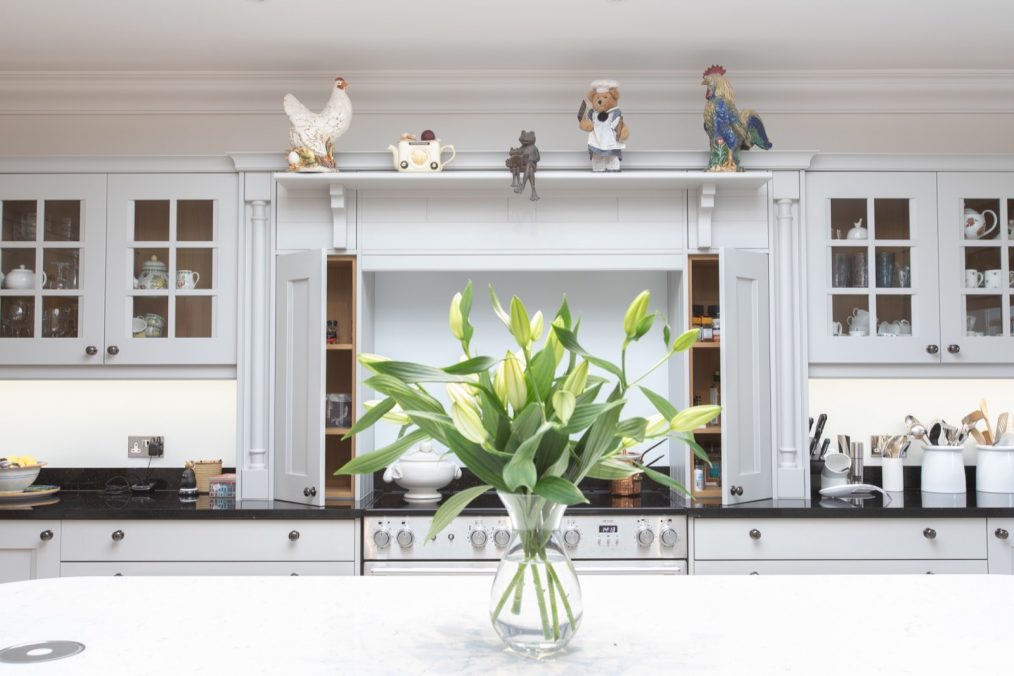 Kitchen Installation in Epping, Essex – Mrs G
Epping – August 2019
We were approached by one of our regular property developers about a project he was starting in Epping, Essex. It was a retired client in a completely refurbished property who wanted a new kitchen plus utility area. The brief was passed to our senior designer to start work on, he then invited the client and the project manager into the showroom to 'spec' the kitchen.
It was a retired client who wanted a traditional kitchen but with modern gadgets and ergonomics. The client wanted an elegant, traditional look but lots of hidden storage solutions to help her enjoy her kitchen well into her old age without losing any functionality
The client settled on Grey Mist, painted timber furniture from our Italian collection. This gave us a light canvas to work from so we were able to really contrast the 30mm black granite with the pencil-edge against the 30mm white quartz with the single Ogie to accentuate the island . Georgian bars on the glass doors, traditional double butler sink, the cornice and pillaston really gave history to the room. Although it is a fantastic size room (25 sqm with an additional 6sqm in the utility) we wanted to make good use of the storage space so used internal drawers as well as large heavy-load pan drawer sets, with timber cutlery draw above and two larders with internal drawers. Perhaps though, the most impressive is the opening furniture at the side of the mantle over the range cooker, not only a feature but excellent additional storage capacity. designer, the customer wanted to house the wet appliances in a bespoke deep and wide larder in the utility room so they were away from visitors eyeline. A kettle tap, hidden recycling bins and a LED pop up plug really proved that style and function can successfully be achieved.