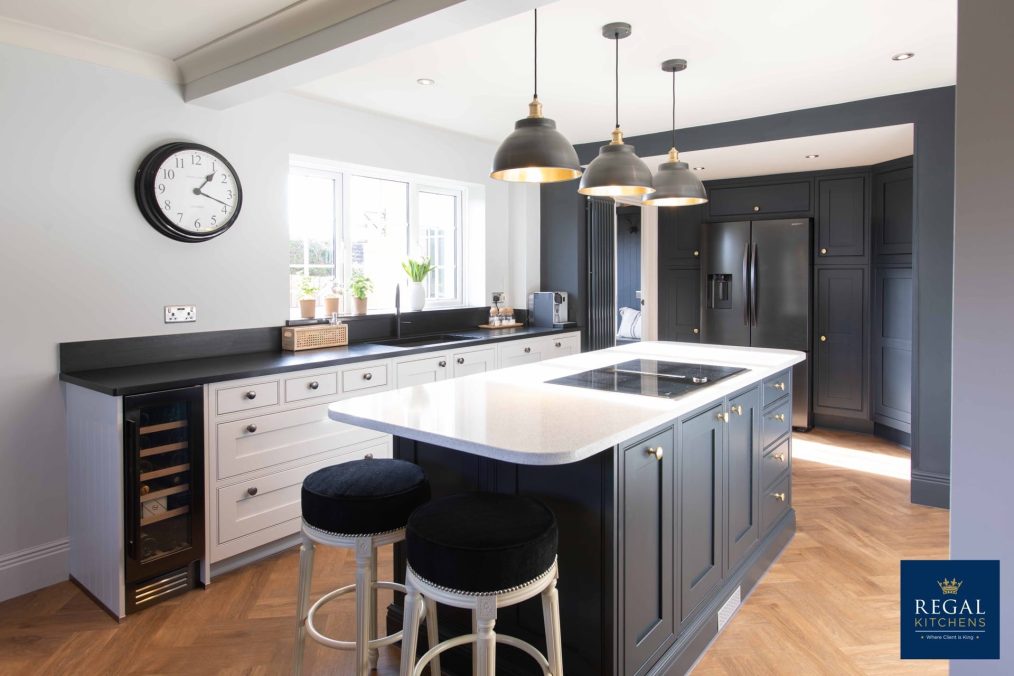 Kitchen Installation in Howe Green, Essex – Mr & Mrs K
Mr and Mrs K knew when they bought their new country home in Howe Green, Essex, that the kitchen was a priority to make their own. They went through the normal routes (high street showrooms and large nationwide companies etc) but could find neither a design that inspired nor products that they would love.
Mr K had explained his situation to a work colleague who had recently use Regal Kitchens for his own renovation and couldn't sing our praises highly enough, so that week they visited the Chelmsford showroom and instantly fell in love with our painted in-frame timber collection. Notoriously difficult to design the clients still had concerns until our designer, John visited them at home and really started to understand the brief and helped them start to imagine the perfect design for their lifestyle.
The designer was bold enough to discuss removing a wall to give them more space and the island that their home deserved, this gave the clients more inspiration so a second showroom meeting was arranged for them to flesh out the design, colour palette and appliances to be included and then following a survey carried out by our Installations Manager, they were booked in to start the project.
Although many tradespeople were required, Regal Kitchens managed their teams expertly, on time and on budget whilst the clients moved into an Air BNB to avoid the upheaval when the structural works were being undertaken.
Although Mr & Mrs K loved the darker in-frame furniture with the black Sensa granite (contains special stain-resistant protection and no sealing ie low maintenance) after consultation with the designer they concluded that making a lighter run of furniture under the window with contracting worktop would soften the dominant darker doors. It was decided to do the opposite on the island to give the already rich colour kitchen, extra depth.
On occasion when removing a wall in a kitchen, it can leave a client with less than adequate storage space so by building a L shape of heavy appliances (Oven, Combi and Fridge Freezer) we were able to accommodate 2 larders with internal drawers and a huge (5 sq m shelving) bespoke corner Pantry.
Extra details such as internal cabinet lighting, black Quooker kettle tap, external plinth on the island and panelling over the support wall would really make this kitchen leap from the pages of any home interiors publication. The shade of Amtico flooring the clients chose brings a warmth to the room which helps make this beautiful house a home.
Mr K Says

"We have had a fabulous experience with Regal Kitchens. Whether it was the time we spent in the showroom, or when John came to visit to help us design the kitchen and particularly Roger who fitted the kitchen, they have been friendly, professional, helpful and just a pleasure to deal with. Ours was quite a big project which included removing a wall and putting in a steel beam; we wanted an island and John helped us find a way; we wanted a corner larder and we got that too. Our new kitchen is fantastic and I can't recommend them highly enough. Thank you John, Stacey , Roger, Phil, Janice and Emma!"
#whereclientisking
How it looked before:
After Our Kitchen Installation: