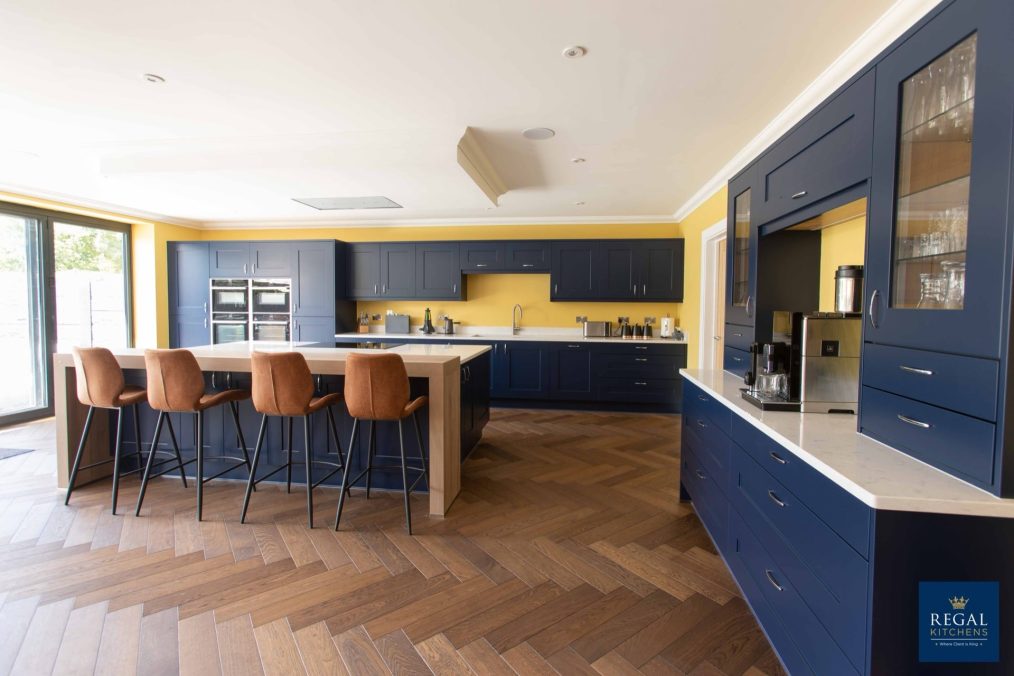 Kitchen Installation in Ramsden Bellhouse, Essex – Mr & Mrs H
When Mr and Mrs H saw a plot of land in Ramsden Bellhouse, It was love at first sight. They knew that with their vision, some luck and the right professional people, that the site could be transformed into their perfect home.
With that image in mind, they set about selecting the products and companies that could be trusted to translate the dream into reality.
The easiest decision for them, yet one of the most important, was who to use to design & build the kitchen. As Regal Kitchens had helped them with a previous project and the feedback from the property purchasers confirmed that the kitchen was what made the sale so easy (not to mention profitable) they looked no further than Regal to help them for a second time.
The brief was clear, a full set of appliances, generous storage, a huge island & bold colours.
As entertaining is so important to the couple, it was decided that two Neff slide & hide 71 litre ovens as well as two combination oven-microwaves and a big flex-induction hob on the island, would ensure that large scale events are easily catered for. The cooling & dishwashing could be fully integrated so as not to interfere with the flow of the kitchen. A Quooker hot tap means no more waiting for a kettle to boil.
Bold blue furniture gives a vibrant, energetic & youthful feel to the room and crisp, clean, white quartz surfaces, top it beautifully. The 9ft island promises plenty of accessible worktops for any amount of guests. With the addition of the wrap-around breakfast bar in a timber finish, warming the look of the room & complimenting perfectly the herringbone floor.
Mr & Mrs. H had a dream for their forever home and have thanked Regal for not only meeting but exceeding their expectations, they say that the company truly lived up to it's pledge of "Client is King"