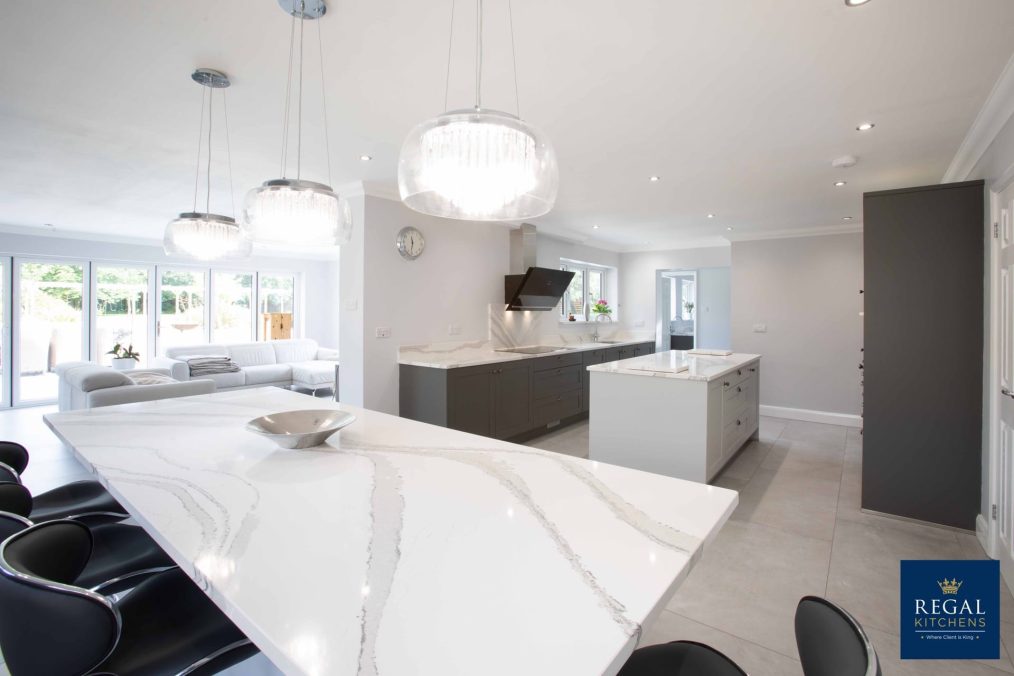 Kitchen Installation in Ramsden Bellhouse, Essex – Mr & Mrs S
Mr and Mrs S had an old MFI kitchen which was 12 years old which really needed to be replaced, they had already seen a nationwide competitor and really were not happy with the design they had put forward, Mr S remembered how helpful Regal were when he only wanted to buy some panels for his old kitchen some time before, and decided to give them a try.
Mr S enjoys cooking for the entire family and all family members like entertaining, so having a single built under oven simply wasn't enough, but, by reassessing the appliances and how they would work better for their lifestyle, they had decided that they really wanted Neff in the new kitchen to allow them to 'cook up a storm' in their new kitchen.
Regal's designer, John Martin, originally looked at a large island with seating, but it felt like the kitchen flow would be interrupted with people eating in front of the ovens, so instead it was decided that they would have one island for food preparation and a second island purely for seating, storage and entertaining
As the kitchen was so large, it was felt that one colour would appear too repetitive so timber painted Dust Grey was selected for the main kitchen furniture, accented with Grey Mist on the islands, topped with Cambria Quartz
Regal continued the theme throughout the utility room and even a small area next to the kitchen in the corridor that leads to the dining room and wine cellar.
#whereclientisking