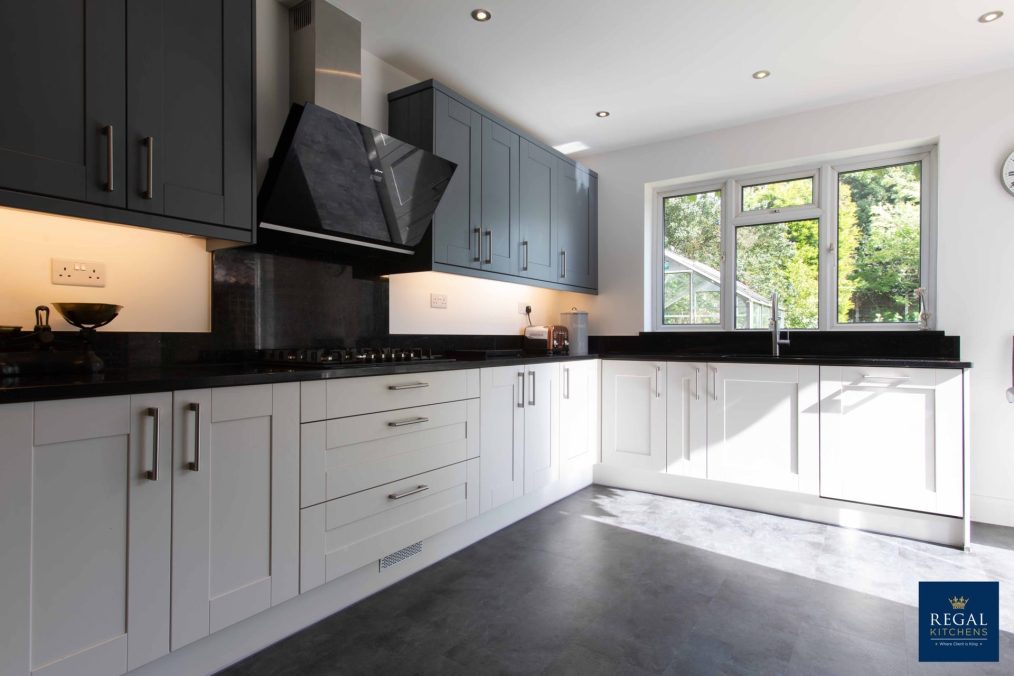 Kitchen Installation in Shenfield, Brentwood – Mr & Mrs E
Mr & Mrs E popped in to the Regal showroom on a Saturday afternoon after researching us and liking what they had seen online. They were interested in using the bespoke approach of a smaller company when compared to the reported service some of the larger nationwide corporations provide. They immediately liked our two-tone painted timber display and were keen to see how this would look in their kitchen.
Mr and Mrs E wanted to reconfigure their downstairs to give them more options and had also considered having an extension. After visiting the property, the designer discussed the different possible arrangements and it was decided that although the side extension would gain a lot more space it would potentially block some of the natural light available. It was decided that a wall between the kitchen and a large downstairs bathroom should be altered to increase the size of the kitchen. The designer also suggested the clients look at blocking up the back door entrance and turn the existing window into French doors. 
This meant that the natural light would fill the entire room and made sure that the kitchen could be opened up into a family social space, but, was still functional and suited their busy lifestyle.  
Mrs E had previously mentioned needing a lot of useful storage for the family's walking shoes and coat. But the existing utility just wasn't functional. The clients asked the designer if it would be possible to build an area for shoe storage as well as housing their laundry appliances so it looked like one piece of furniture.
Once the layout was agreed it was time to start choosing colours and products.
As well as providing the same colour timber doors the clients saw on display in the showroom (Bleached Stone and Monsoon) we incorporated Black Star Galaxy granite for the worktop and this was also added behind the hob as a splashback, and we think the LVT flooring in Grey Slate really contrasts well with the furniture. Special storage solutions, Quooker boiling water tap and a full set of Neff appliances means our client can cook up a storm in her new kitchen and they are extremely pleased with the end result.
www.regalkitchens.co.uk
#whereclientisking
How it looked before:
After Our Kitchen Installation: