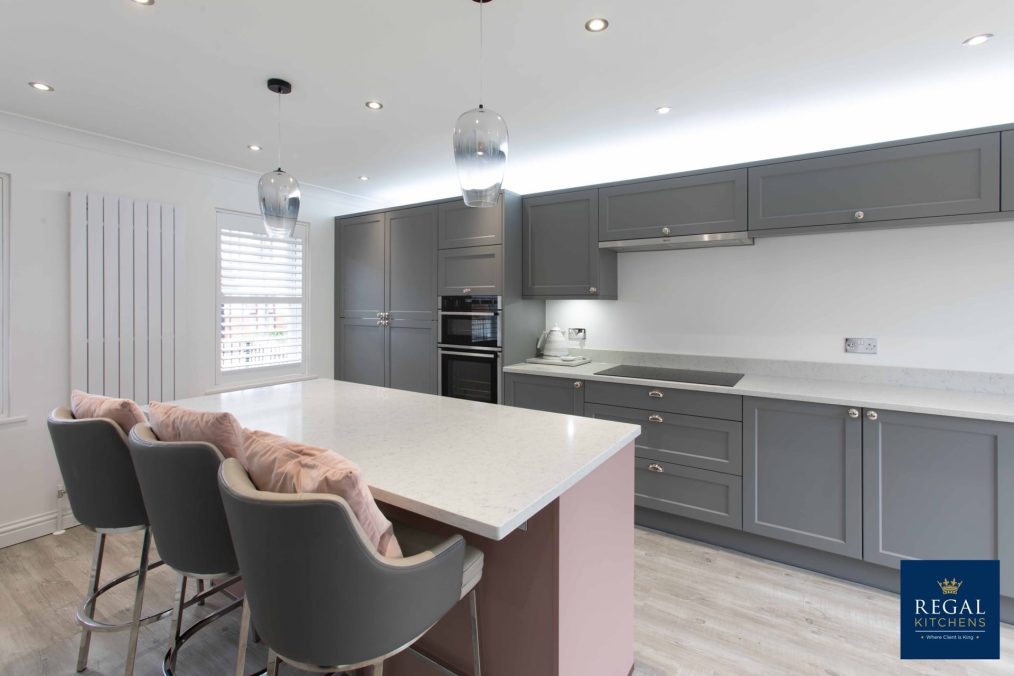 Kitchen Installation in South Woodham Ferrers, Essex – Mrs G
When Mrs G and her husband purchased their house for them and their twin children they quickly realised that the kitchen was too small for their family. Not really knowing where they start they spoke with builders and nationwide kitchen companies but really struggled to connect with anyone who could help realise their vision.
It was then that VG's father reminded her who had helped with their kitchen 15 years earlier, so they booked an appointment with Regal Kitchens in Chelmsford.
Pretty quickly it was decided to remove a wall to really open the space up, giving a wonderful 6m run of furniture, this allowed space for an integrated fridge, freezer, oven, hob, sink & dishwasher along the one wall. Leaving a space for a beautiful island (1.8 x .9m) with seating and additional cabinetry and a good sized family table adjoined.
In the utility room a larder was used to completely cover the boiler leaving room for a generous pantry and a "boot room area". By stacking the washing machine & tumble dryer we were able to put in a utility sink.
Mixing Dust Grey & Rose Pink cabinets with the Carrera quartz creates a vibrant, youthful, modern look and has been well received by friends and family alike.
Regal have created the most beautiful and outstanding family kitchen for us. They worked very closely with us to get the design just right. Nothing was too much trouble for them. They worked tirelessly to ensure that the finish and fitting of the kitchen, appliances and flooring was perfect throughout. They also worked and communicated very well with the other tradesmen we had in carrying out work on our home which made us feel comfortable that there would be no unexpected issues cropping up with various parts of our home renovation. Everyone always asks who supplied our kitchen as it really is so beautiful and different (colours) to anything they have seen before. They most certainly are not an off the shelf company, Regal have created an amazing bespoke kitchen which we love
How it looked before:
After Our Kitchen Installation: