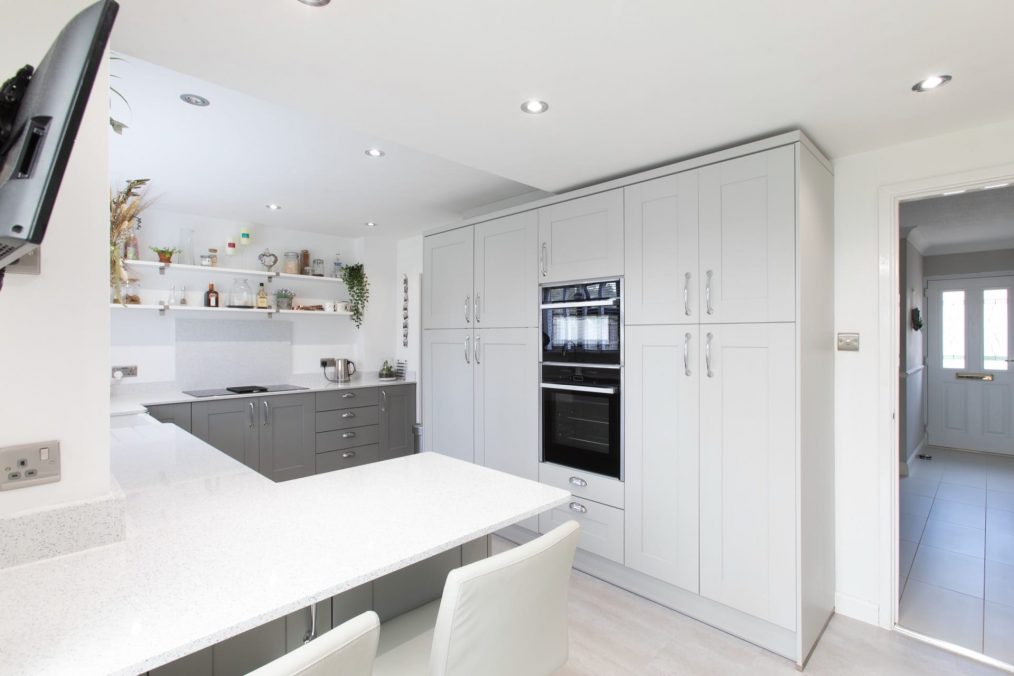 Kitchen Installation in Writtle, Essex – Mr & Mrs B
Mr & Mrs B from Writtle in Chelmsford had spent months touring kitchen showrooms and were near the end of their tether, they had found "designers" either wanted to copy the existing floor plan or design whatever came into their heads with no regard for the family's personal or style needs. So when they were recommended to Regal by a friend they wondered if they would only repeat the now familiar cycle. However from their first visit to the showroom they realised Regal did things a little differently and happily accepted their offer to organise a kitchen expert to visit them at home. Mrs B had a lot of nice smaller kitchen accessories which she wanted to show off in a modern way as well as achieving more storage and working space from the new kitchen. They also felt like their appliances weren't very well placed when it came to preparing family meals.
The problems with the existing kitchen aside from being tired and dated were a lack of storage and usable worktop, it was ergonomically unfriendly. After a bit of thought it was decided that the appliances and their positions were more of a hindrance. So out with the range cooker, in with the Neff eye-level slide & hide oven with matching combi. No more messy gas top but rather the flex-induction venting hob (added advantage of freeing the walls up for some unfussy open shelving. Swapping the free-standing fridge, freezer & dishwasher for integrated only helped to complete the designer look. All the tall cabinets were placed on the side wall so as not to close in the open plan feel. Also swapping the high maintenance wooden worktops for quality quartz really helps make the kitchen use an enjoyable experience
The combination of the different shades of grey furniture with the light quartz make for a clean, modern look but to ensure it's not too cold, the warm wood effect LVT really brings it to life. The customer enjoys cooking, the new Neff appliances have reignited her love for preparing exciting new dishes, and as the ovens are now at waist and eye level there is no more bending down to check on a dish (she said her back thanks her everyday!) Both Regal and the client are delighted with the completed project.
#whereclientisking
How it looked before:
After Our Kitchen Installation: