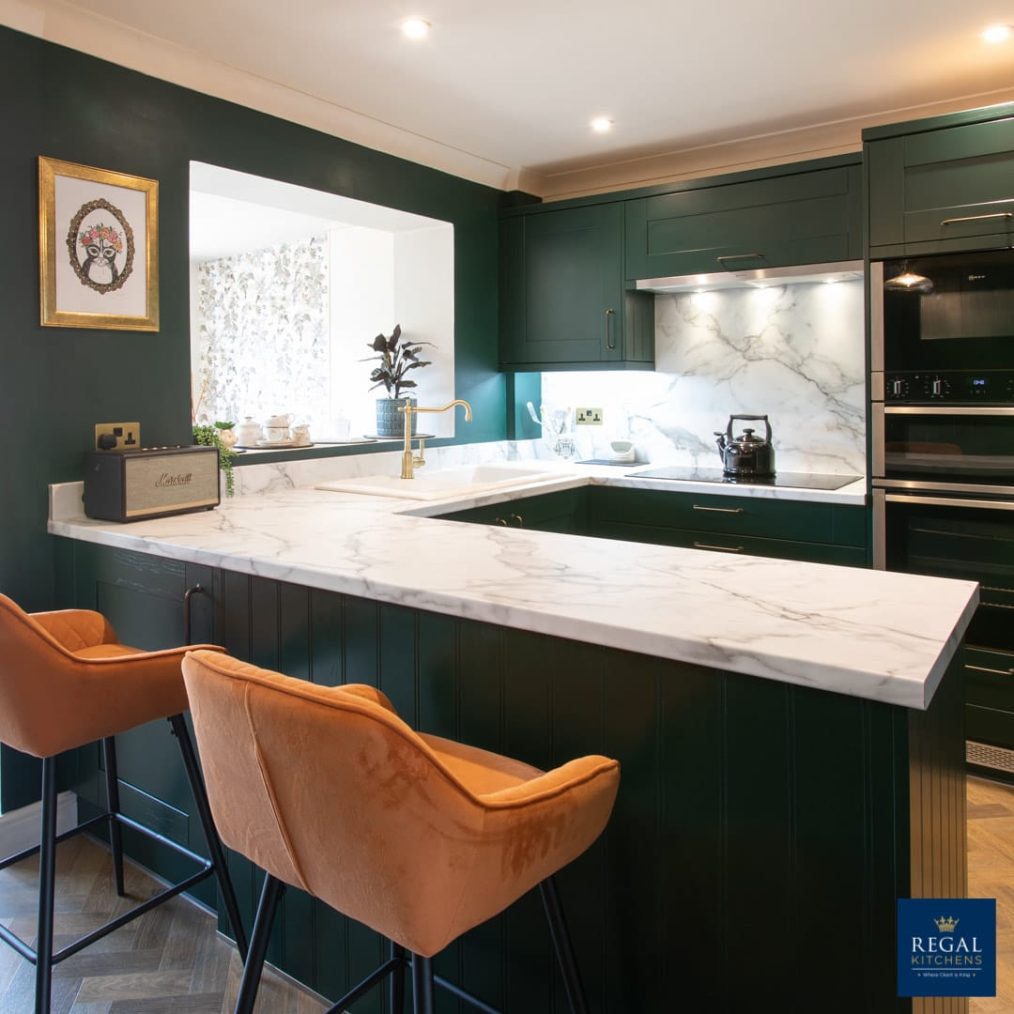 Kitchen Trends 2023
A quick peek at the emerging trends for your dream kitchen in 2023! If you're planning a new kitchen project, get ahead of the bandwagon with the newest kitchen trends. Not only will this help make sure your kitchen doesn't fall behind the times when it comes to materials, colours and appliances, but also that you're making use of the latest innovations for the kitchen.
1 – Sustainable Choices
When it comes to creating a sustainable kitchen, there are plenty of small swaps you can make to improve your space's green credentials. However, using less cling film and making sure your recycling is sorted properly only goes so far if sustainability hasn't been considered at the outset of your kitchen design.
We predict that we will see a movement toward more timeless, classic designs and honest, natural and durable materials like wood, stone and steel that can stand the test of time. The sourcing and recyclability of materials will also be taken into account to a greater extent.
FSC-certification is an important mark to look out for when buying a timber kitchen or wood flooring. Awarded by the Forest Stewardship Council(opens in new tab), this accreditation means that the timber used has been sourced from sustainably and responsibly managed forests that also provide environmental, social and economic benefits for local people.
A low quality, cheap kitchen will always prove a false economy, both in terms of your finances and the environment.  Kitchens that use better quality materials, craftsmanship and fixings will require more of an investment, but also endure for longer, ensuring fewer resources and less energy used in manufacturing a new one sooner, plus less waste when a multiple kitchens are removed and scrapped.  A good quality timber kitchen can also easily be reinvigorated with repainting from time to time. Choosing a timeless style such as a Shaker kitchen will ensure your space can always be in tune with the latest styles.
2 – Hidden and Butlers pantries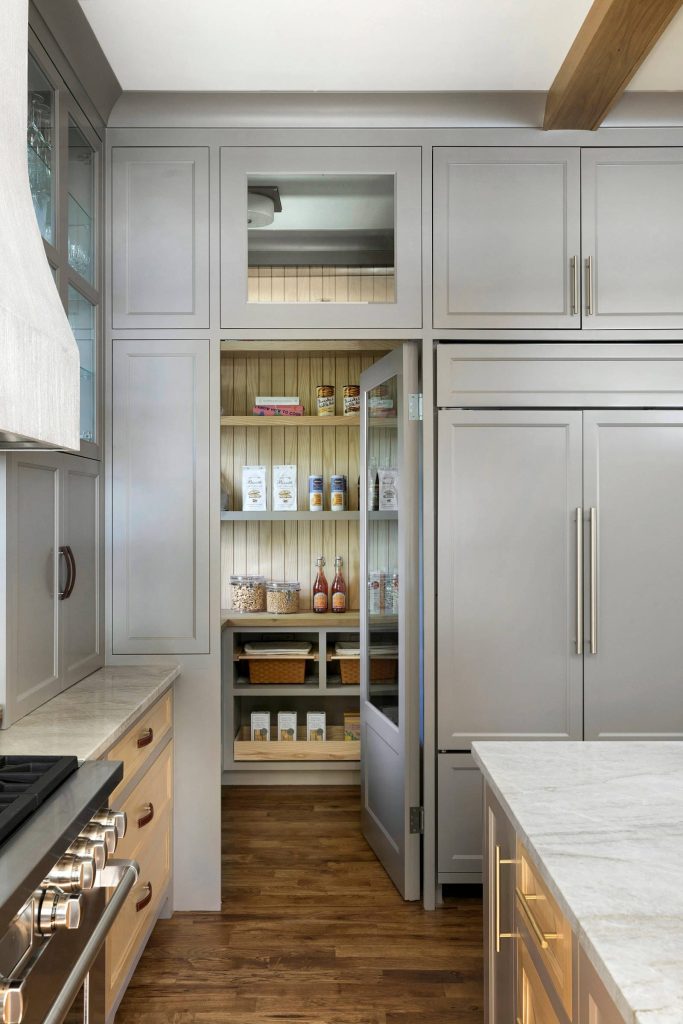 Sometimes known as a serving pantry or a scullery, a butler's pantry is a transitional space between a kitchen and a dining area that's often used for storage, food prep, or a staging space.
A hidden pantry in the kitchen is a highly practical solution for most modern households. If you're designing the interior from scratch, you can plan the space to make it suitable to your individual needs and expectations. If you have kitchen pantry storage, you can stockpile food and preserves and keep them always on hand – whenever you need.
A pantry in the kitchen is also an opportunity to keep the kitchen more organized. Instead of putting jars with preserves or boxes with pasta on the counter, you can hide them, so they don't take the precious space. As a result, you have a bigger work surface at your disposal.
A new trend we love is concealing a butler's pantry that is an entire room of its own. One hidden behind custom cabinetry with a surprise entrance is especially fun when you have a large family or host large gatherings — children as well as adults delight in its hidden treasures.
3 – Statement Lighting
In the past, people deferred more toward recessed lighting. Now, people are becoming more adventurous with their lighting choices and taking advantage of them as a statement design element in a room
Ambient, comfortable lighting will always be on trend, we think that over the next year we will see more indirect lighting coming from coves and eye-level fixtures, with wall fittings doubling down on form and function. More so, new light fittings are becoming sculptural as a statement piece or artwork and centre point of a kitchen but any good chef will need good lighting as its essential for cooking.
4 – Designated Home Working Area
The need for more home working has meant a rise in homeowners searching for space to carve out office areas.
The kitchen is the ideal spot and kitchen designers have caught on to this by coming up with all kinds of solutions, from units which conceal neat little office set-ups within, to layouts that allow for offices to tuck away in a quiet corner of the space.
A breakfast bar can often be squeezed into a surprisingly small space and it's a budget-friendly way to create a multi-purpose work area for both adults and children in a kitchen.
If you're putting a workstation into a busy kitchen but don't want to be reminded of work when you're not at the desk, it could make sense to tuck a home office into a cupboard, where clutter and mess can be closed away at the end of each day.
5 – Textured Surfaces
When you're dreaming up new kitchen design ideas, your internal mood board is probably a collage of colour schemes, aesthetic styles, appliance options and storage upgrades. Often overlooked, texture is a kitchen design element which can make a tremendous difference to the look and feel of a room, adding visual interest and tactile appeal. In a space as hands-on as the kitchen, it's a design feature which deserves attention, as it can drastically transform your interiors.
For many, the main appeal of working with texture is the warmth it adds to interiors. Natural materials in particular instantly add a sense of cosy ruggedness to a kitchen design. Texture can also be harnessed to bring sleekness and natural angular geometry to designs, particularly when man-made plastics and metals are incorporated.
Combining textures, such as exposed brick with natural wood and stone, adds an array of textures to your space, which ensures your interior is interesting without becoming overwhelming. For those who love to 'mix up' their interiors more frequently, laying the groundwork with a varied textural palette provides a great foundation upon which to play and experiment with different colours, schemes and themes.
We believe 2023 will see more expressive tactile materials such as metallic elements, concrete and textured doors featuring heavy wood grains as well as marble-effect and stone finishes. Adding sophistication to a kitchen layout, these striking finishes will help to tie a look together through character and individuality.'
6 – Rounded Islands
Why does a kitchen island have to have sharp corner? Answer: of course it doesn't. And designers are realising that actually rounded edges are more convivial, more conducive to friends and family sitting around their modern kitchen together.
A rounded island comes into its own when entertaining, especially in open-plan kitchens with multiple entrance and exit points, making it easier for guests to socialize and encouraging smooth transition between spaces. A curved island can also include a more expansive seating area, allowing guests to comfortably eat and socialize around the kitchen island.
7 – Designated Drinks Bar Area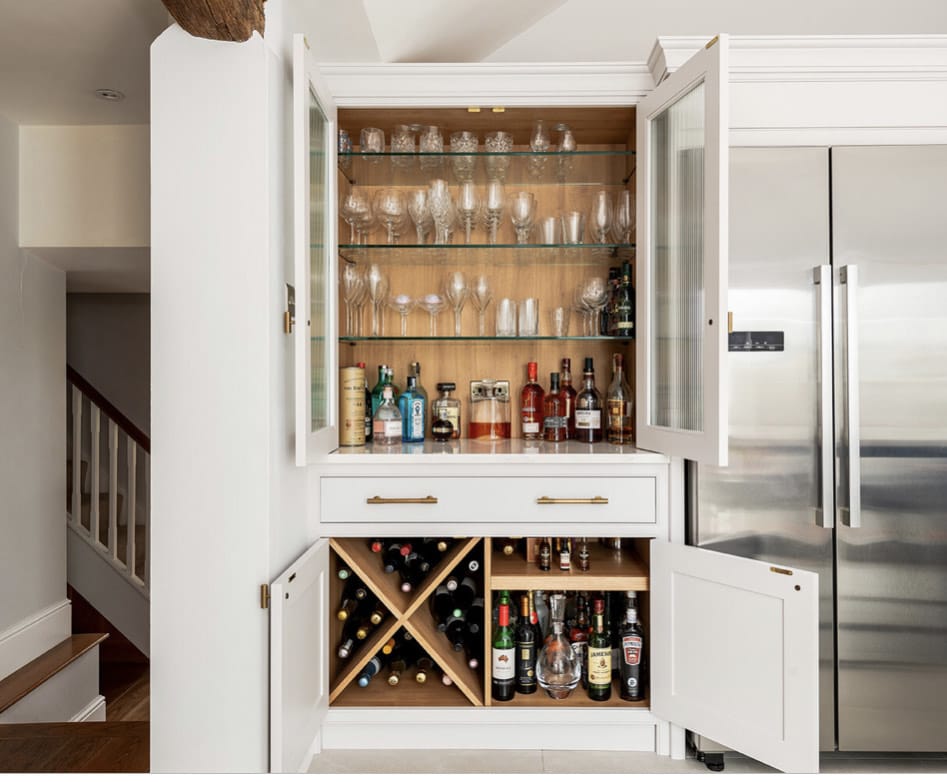 There are many unique benefits to adding a drinks bar to your kitchen – Besides aesthetic appeal, of course! Most kitchen bar designs offer extra storage space, countertop surface area, and seating – Plus, a kitchen bar gives your kitchen the perfect go-to area for entertaining!
You can also use a kitchen bar to create separation between your kitchen and dining or living room, specifically if you have an open floor plan. The right kitchen bar design will seamlessly give your kitchen the extra flair you've been dreaming of while providing the functionality you desire.
8 – Injections of Bold Colours and Patterns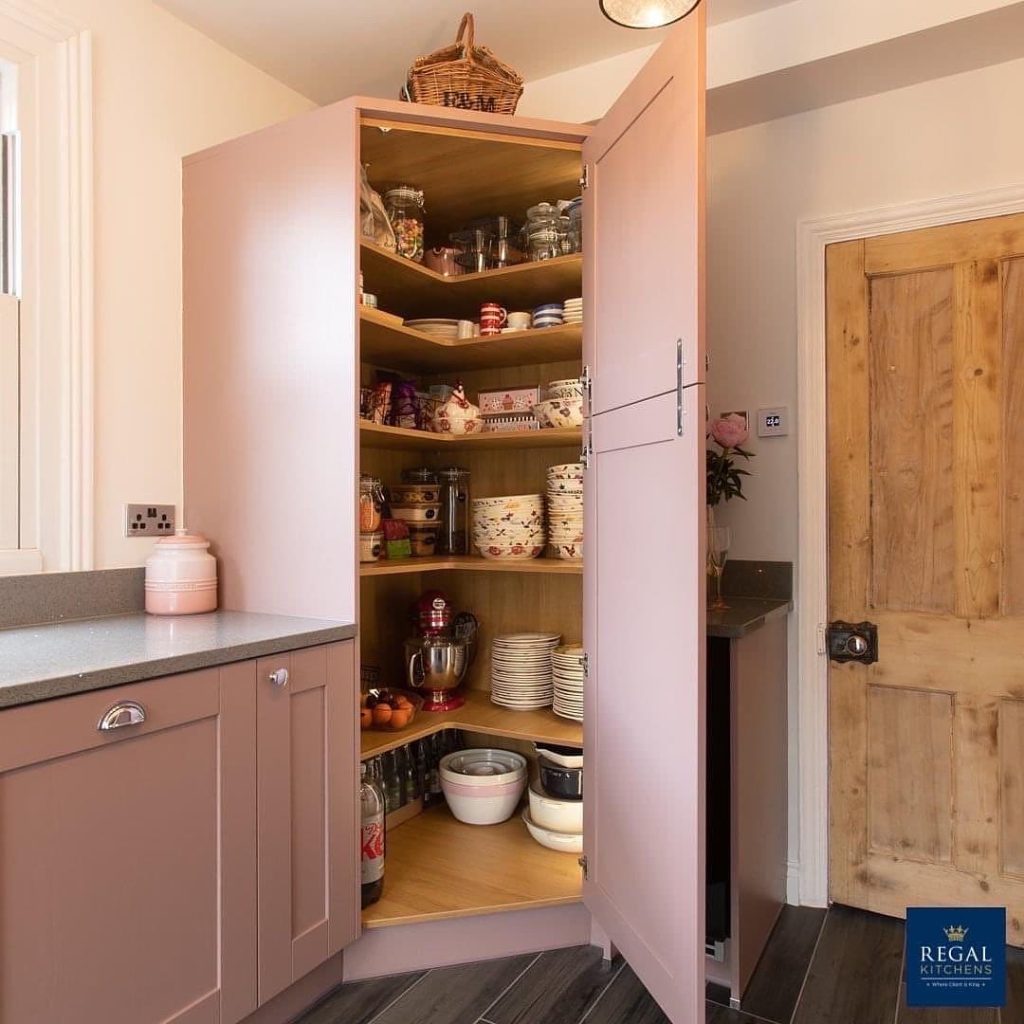 Just as in living rooms, kitchen units have been specified in bold, daring colours for a few years now but it can be daunting to choose an entire kitchen based on a trend, so either opt for painted wooden kitchen ideas, which can be updated and repainted in a few years when you feel like a change, or select a few key pieces to include in this style.
Our designers love to add print and texture to a kitchen to bring a bit of interest and life into the space. Doing it with patterned wallpaper behind an open wall shelving like this is low-risk but high impact.
We have also noticed that clients are getting really bold with their splashbacks. White kitchens are still trending, but a bolder backsplash is perfect to add that pop of pattern or colour, creating a playfulness to your home
We expect to see a trend toward a more brave mix of different styles. We will see strong colours, expressive stones and untraditional combinations of different materials
9 – Outdoor Kitchens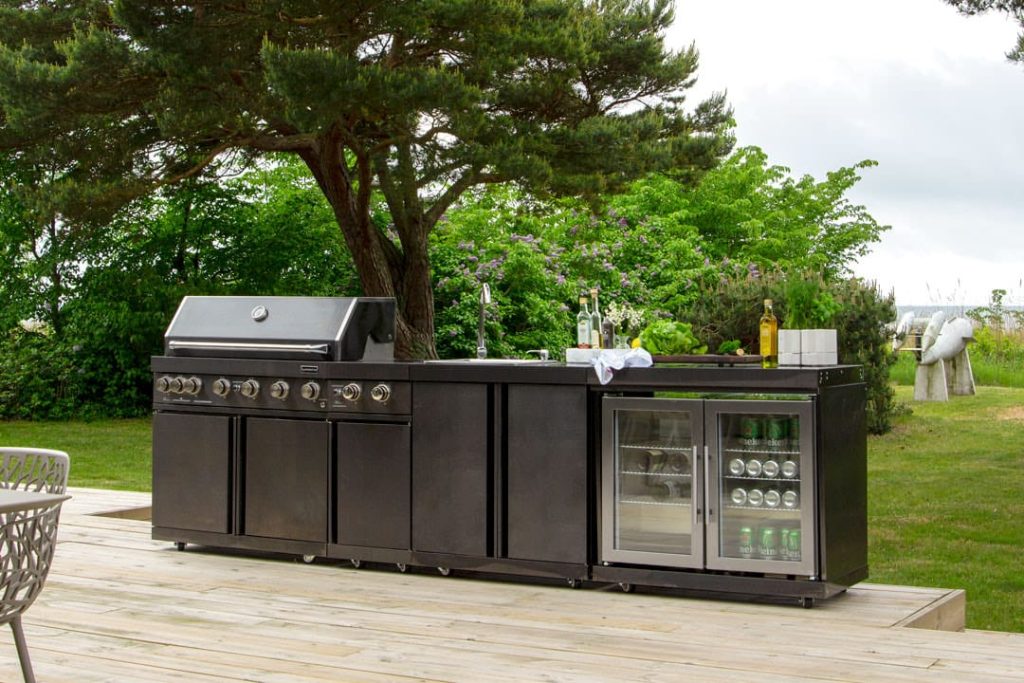 The final trend we're anticipating going strong into next year will be the outdoor kitchen. Covid-induced homeboundness, amped up enthusiasm for these spaces over the past few years, and interest is only growing.
Keeping the momentum of outdoor kitchen ideas going, homeowners are now following the basic formats and sizes of their indoor kitchen in their outside spaces. Usually divided by patio doors, dining tables and even kitchen islands are being mirrored directly outside to emphasise the indoor-outdoor
living movement.
To find out how Regal can help you transform your kitchen in 2023, call our showroom on 01245 351151.
#whereclientisking